After numerous, recent cases of serious illness and injury, the Humane Society of Central Arizona has started the Second Chance Fund out of necessity. This fund will help with the large amount of growing medical bills that are necessary to treat our dogs and cats needing specialty care.
Please consider donating to our 2nd Chance Fund at https://humanesocietycentralaz.networkforgood.com/projects/18431-second-chance-fund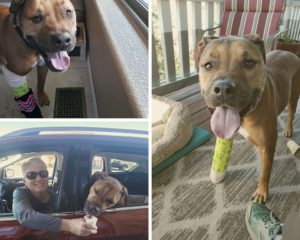 Shoe's Update!
Almost four months ago, Shoes was found in the forest with a broken leg. Although he has a microchip, his owners did not want him back when they learned he needed medical care. We've spent the last four months treating Shoe's broken leg but it just wasn't healing properly. After months of radiographs, splint changes, vet visits and love and care, the decision was made to amputate his broken leg yesterday. Shoes is recovering well and resting. We look forward to the day when he can walk out of our shelter and into his new home. Thank you to all the staff, volunteers, medical team and our supporters that donate to our Second Chance Fund. Your donations go directly to dogs like Shoes that need care above and beyond basic medical.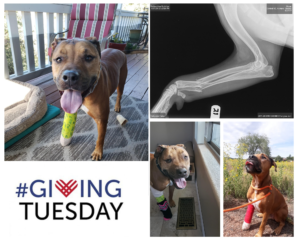 December 3, 2019
It has been almost three months since Shoes came into our care. He was found out in the forest with his front right leg shattered. Although he had a microchip and owners, sadly they did not want him back after they discovered the extent of his injuries. Shoes has been in our care for three months now and is making progress. His splint is changed many times per week and the lucky man is healing nicely. Being in a shelter environment for a long amount of time, Shoes started getting depressed. He is getting better every day and really enjoys spending time at one of our dedicated volunteer's homes during the day to help cheer him up. Your donation ensures that special dogs and cats (like Shoes) will continue to have access to the best care, a safe place to rehabilitate AND help us save more lives. Thank you for your support!