After numerous, recent cases of serious illness and injury, the Humane Society of Central Arizona has started the Second Chance Fund out of necessity. This fund will help with the large amount of growing medical bills that are necessary to treat our dogs and cats needing specialty care.
Although we have had several animals that have used the 2nd Chance Fund, these are some of the stories that we would like to share with you.
Luigi's Story
November 30, 2022
Luigi was surrendered to us back in November 2022. We found out he had a bad injury due to being kicked by a horse. After taking him to get x-rays Luigi needed to have 2 surgeries due to these injuries, a FHO (femoral head ostectomy) repair on the left hip, and then after healing the left side, he had the next FHO repair on the right hip.
You'd never know it though, he handled both surgeries like a champ!
Just before he was available for adoption, Debbra, one of our wonderful volunteers took him to Lacy's to get a much-needed grooming.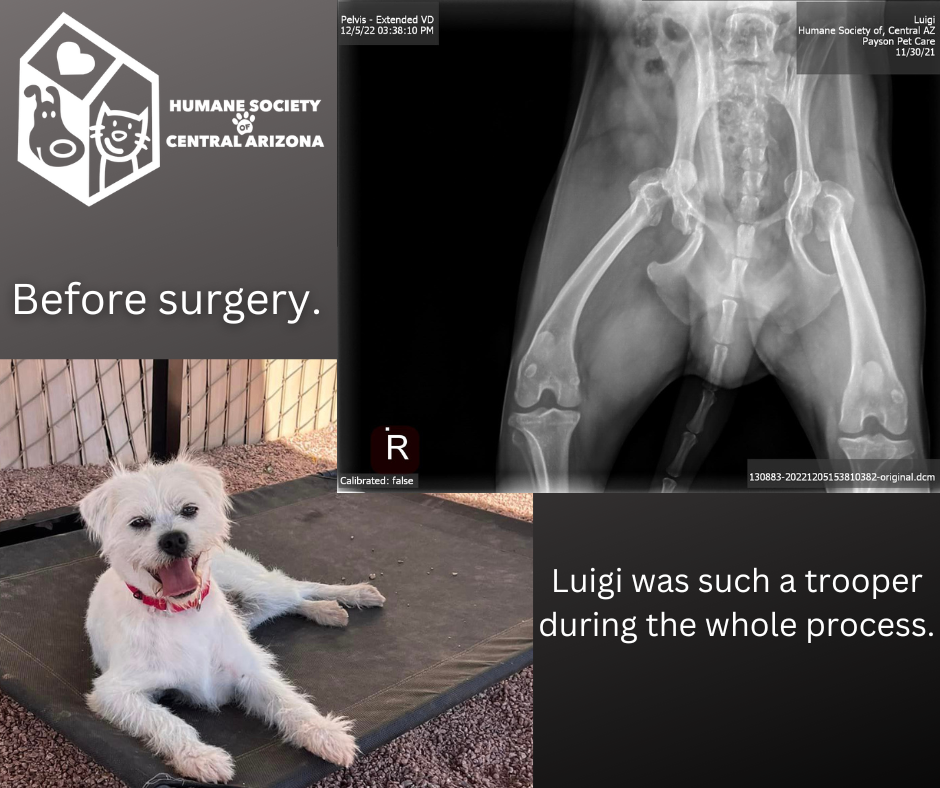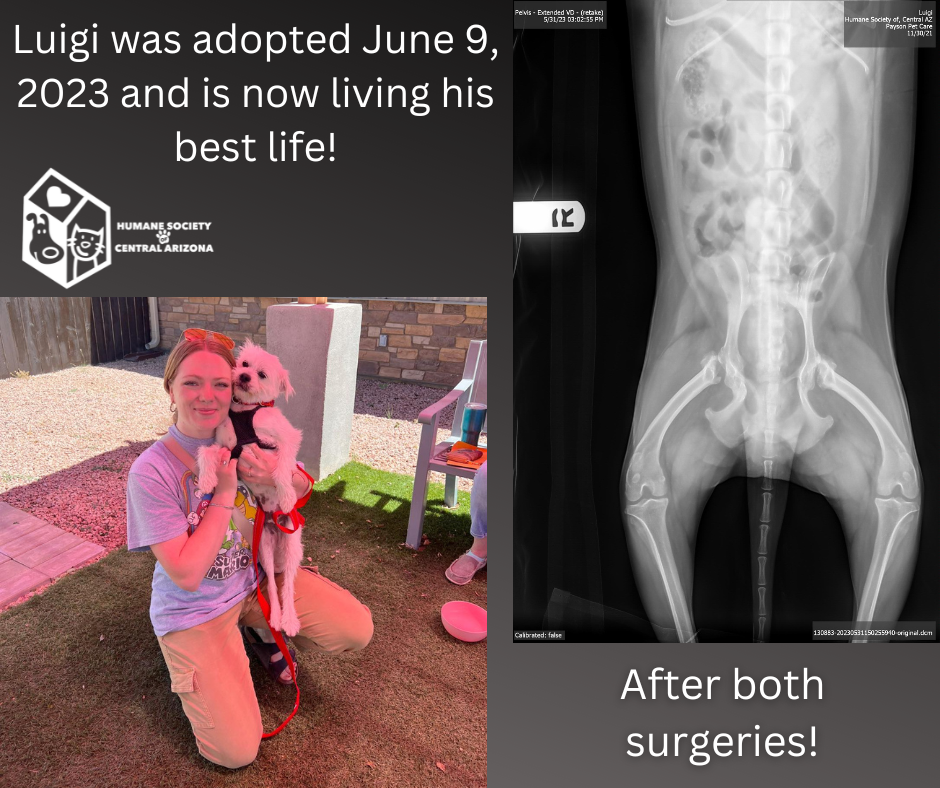 Verde's Story
May 31, 2021
Every animal deserves a second chance after being left to fend for themselves. Verde was found on the side of HWY 87/260 by chance, standing off to the side hiding between dead brush and a hill. She was emaciated and had several injuries throughout her body. Ready to accept the care she so desperately needed, she allowed her finder to scoop her up and be driven to HSCAZ. Weighing in under 39 pounds she began her journey through gaining weight with consistent feedings, medications to fight off the abscesses and open wounds causing her pain, and a comfy bed to call her own at night. Fast forward 3-4 months, Verde has gained enough weight that you can no longer see her defined spine, protruding ribcage, and hip bones. All of her injuries have finally healed just leaving behind the remnants of scarring. Her eyes are full of joy being surrounded by a medical team, staff, and volunteers to care for her needs and let her know she doesn't have to struggle to survive every day.
Verde is available for adoption if you are interested in meeting her, Tuesday-Saturday 10am-3pm. She is currently an only pet in the home type of girl.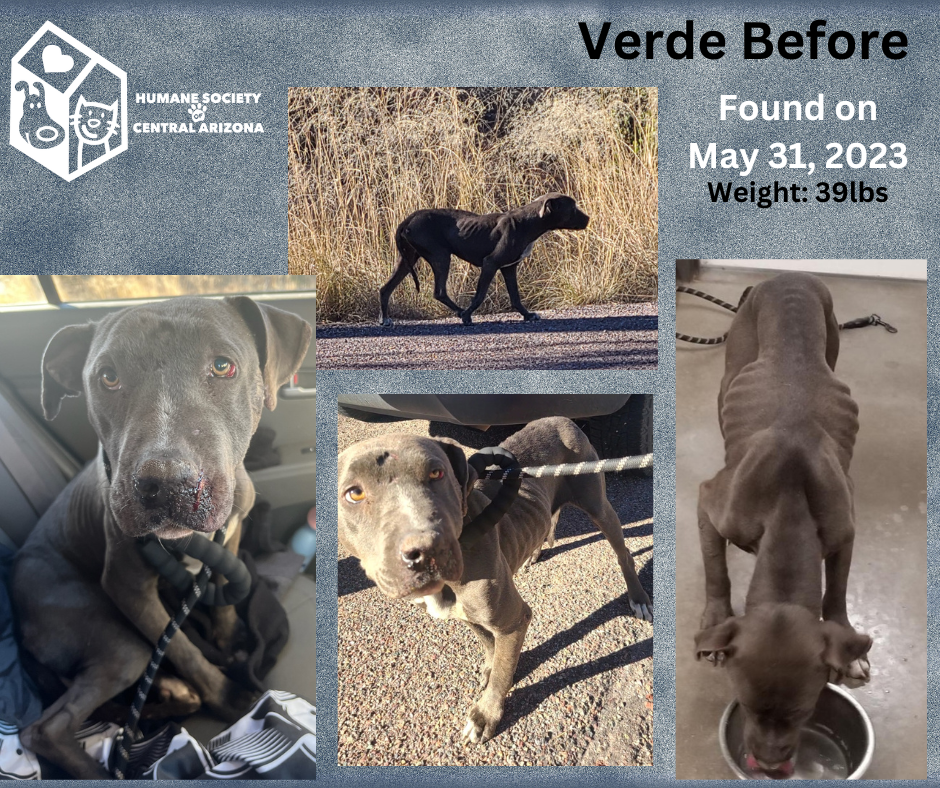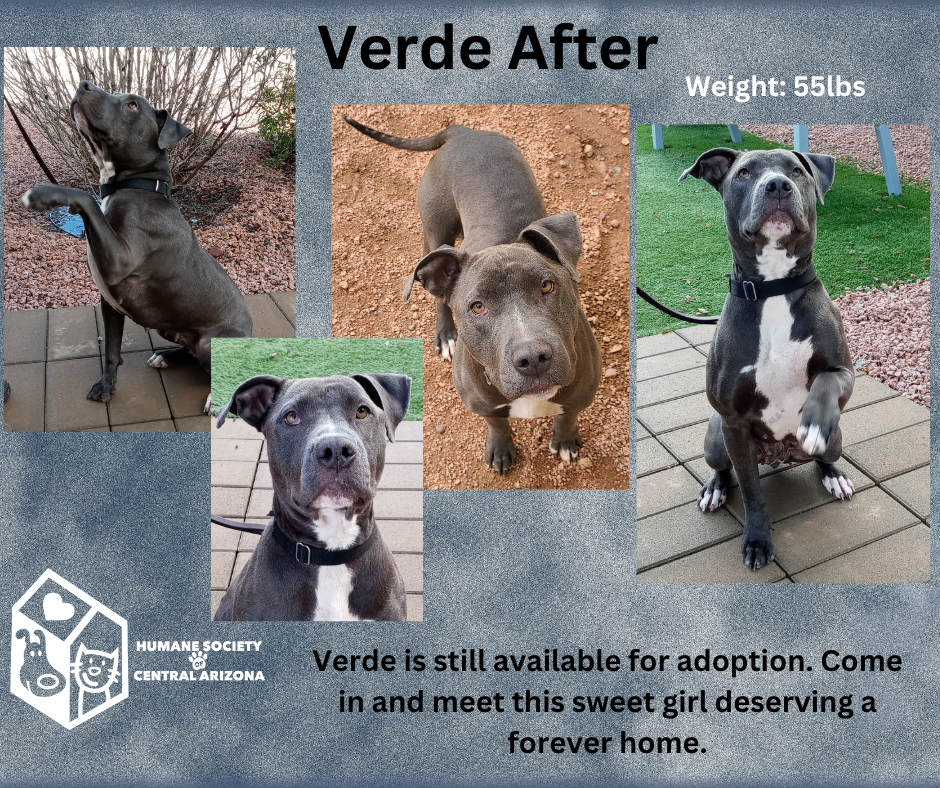 Shoes' Story
Update on Shoes!
Almost four months ago, Shoes was found in the forest with a broken leg. Although he has a microchip, his owners did not want him back when they learned he
needed medical care. We've spent the last four months treating Shoe's broken leg but it just wasn't healing properly. After months of radiographs, splint changes, vet visits, and love and care, the decision was made to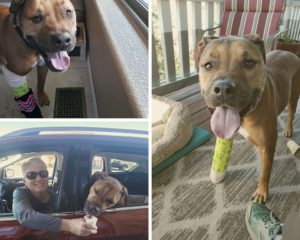 amputate his broken leg yesterday. Shoes is recovering well and resting. We look forward to the day when he can walk out of our shelter and into his new home. Thank you to all the staff, volunteers, medical team, and our supporters who donate to our Second Chance Fund. Your donations go directly to dogs like Shoes that need care above and beyond basic medical.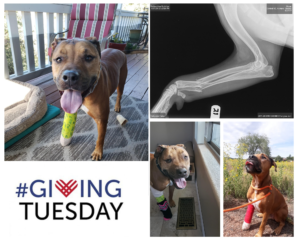 December 3, 2019
It has been almost three months since Shoes came into our care. He was found out in the forest with his front right leg shattered. Although he had a microchip and owners, sadly they did not want him back after they discovered the extent of his injuries. Shoes has been in our care for three months now and is making progress. His splint is changed many times per week and the lucky man is healing nicely. Being in a shelter environment for a long amount of time, Shoes started getting depressed. He is getting better every day and really enjoys spending time at one of our dedicated volunteer's homes during the day to help cheer him up. Your donation ensures that special dogs and cats (like Shoes) will continue to have access to the best care, a safe place to rehabilitate, AND help us save more lives. Thank you for your support!